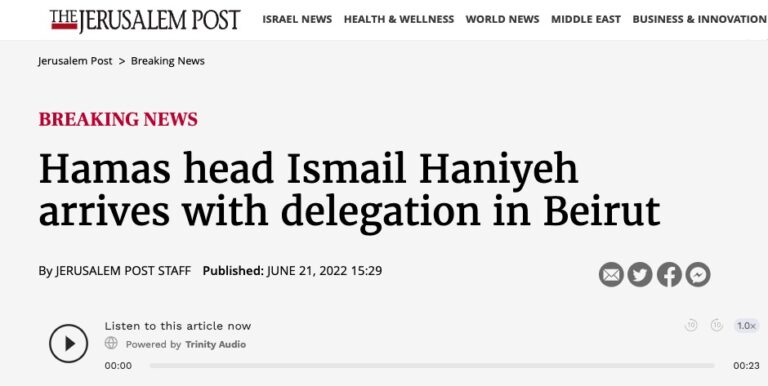 Hamas head Ismail Haniyeh arrived in Beirut on Tuesday afternoon leading a delegation from the terrorist movement, Hamas announced.
The delegation will meet with Lebanese officials and leaders and leaders of Palestinian factions in the country. Haniyeh will deliver a speech at the Islamic National Conference in Beirut as well. Source: Jerusalem Post
News Analysis: Why is Saudi leader MBS meeting with leaders in Egypt, Jordan and even Turkey this month?
Which brings us to MBS's decision this week to travel to Egypt to meet with President Abdel Fattah el-Sisi, then to Jordan to meet with King Abdullah II, and then to Turkey to meet with President Recip Tayyip Erdogan.

The mission: to shore up Saudi Arabia's regional alliances, and try to all get on the same page before Biden comes to town.

The meetings in Cairo and Amman will be interesting and important.

But the meeting in Ankara with Erdogan is going to be fascinating.

Why?

Because Jamal Khashoggi was murdered in Turkey.

It was Turkish intelligence that bugged the Saudi consulate and thus uncovered the sickening plot by low- and mid-level Saudi operatives to drug, kill and then butcher Khashoggi.  Source: Arab News